What to Do BEFORE the GED® if your child is still under age 17.
Many parents who have taken their child out of school around the age of 12 or who have a 13, 14 or 15 year old, ask what they should do at this stage to prepare their children for the GED® tests, which the children can only write at age 17 or older.
If you have just started homeschooling, you should first spend a couple of months deschooling – doing no formal learning so that you can all 'detox' from the school system.
So many parents battle to let go of the structure and grade levels of the school system, fearing that their kids will 'get behind' as if there is some deadline in life that they must meet. There is no deadline and many children first need to heal emotionally from damage done by the school system before they are ready to continue with formal learning.
If your child is reluctant to start learning even after that, the advice of the late Leendert van Oostrum, comes to mind, "LOS DIE KIND!" When he is ready, he will want to learn. Give him that time and space. Sometimes it takes about 2 years.
Have a chat with your children and ask them what subjects and skills they think they
NEED to learn in order to function successfully as an adult and
what subjects or skills they would LIKE to learn.
Then find resources to help them learn these things and involve them in some of the choices and decisions. Let them also research the options that are available to them. This is real life learning.
 You are no longer in the system. You can give your child a customised education and pick up a GED® credential along the way!
One of the great advantages of the GED® is that there is no prescribed curriculum that you are forced to follow for a couple of years before writing it, as with other matric options. Families choosing the GED® have more time and freedom to let  their children explore the things they are interested in, and then just do the necessary prep to "jump through the GED® hoop" in order to get that credential that will appease others and give you peace of mind too.
The GED® tests 4 subjects, so it makes sense to keep up skills that will be necessary for those 4 tests:
Mathematical Reasoning
Science
Reasoning Through Language Arts
Social Studies
I. Mathematical Reasoning
There are many maths programmes which are all well-recommended by the homeschooling community and they all work, so you can pick whichever suits your taste or your budget. Candidates must have mastered Algebra and 2- and 3-dimensional Geometry in order to pass the GED® Mathematical Reasoning test.
My personal choice is Math-U-See, including Algebra 1 and Geomtery, but as I said, its your choice.
2. Science
For Science there are a couple of options I recommend. You can choose any of them. Remember the GED tests SKILLS rather than knowledge of specific topics!
This homegrown Natural Sciences programme about South Africa is literature based and encourages children to think critically about what they learn.
Home education is not so much about filling children's minds with facts, but rather as Charlotte Mason said, it is a science of relations – it's about introducing your children to topics and subjects that fascinate them, views and ideas that challenge them and great authors whose stories and experiences enrich their knowledge and thinking. It's about creating an atmosphere of learning where questions, curiosity, and discovery are part of your family culture.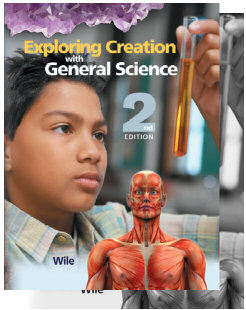 The Apologia senior science books by Dr Jay Wile are also excellent. They start with General Science, then you can do Physical Science, Biology optionally, if your time allows …and this should be sufficient for the GED®…but again, any alternative science programme that will broaden your child's knowledge of this subject should be acceptable.
Remember the GED® tests mainly SKILLS not knowledge of any specific curriculum or content.
3. Reasoning Through Language Arts
For English, again, whatever materials you choose will be good. The GED® requires students to write a 5 paragraph essay, so learning the structure of a well-planned essay and practicing that at some stage before they get to the tests will be advisable. You can search online for GED® essay topics to see the kind of topics they might get.
The essay question will require the candidate to write a short essay in response to two passages of text. The passages will present two different viewpoints on a topic.  The candidate must read each of the passages and then decide which viewpoint is best supported. She must then write an essay presenting evidence from the passages showing that one viewpoint is better supported than the other.
The candidate does NOT have to write about which opinion is correct or believed to be TRUE. They are only asked to analyze each text and discuss the argument which best supports its claims. This is a skill that will need to be practiced.
We have used the Student Writing Intensive programme from Excellence in Writing and various products for grammar.
By reading aloud together, your children will be exposed to good vocabulary, complex grammar and sentence construction, figures of speech and a whole lot more and this will gradually build the data base of language in their brains. As they mature, they will be far better equipped to produce good language of their own because of this.
Stories are also about characters and how they overcome and solve problems – relationship issues, overcome fears or enemies and these are good life lessons for our children. As you read, encourage them to think critically about the story or text.
The Reasoning Through Language Arts test requires candidates to understand the deeper meaning of texts – things like inferences and suggestions…so again you can use reading aloud together and discussing what you read critically to develop reasoning and thinking skills.
4. Social Studies
I always recommend the Footprints On Our Land and Footprints – The Last Century, which are both literature-based programmes, that I co-authored. These are both suitable for tweens and teens  up to age 16 . Good stories know no age limit.
For international social studies, after Footprints you could use any of the following: Sonlight's Core F – Eastern Hemisphere Nations or Core G – World History or any other Sonlight Core you fancy.
Otherwise, read aloud whichever books you would like to with your children.
This article lists more than ten things to consider doing with younger students, which will add value to your students' lives and further their life-long education.
Age 16 or older – Online GED Prep™
Just because a candidate may write the GED® tests at age 17 doesn't mean she should. You need to decide when your child is ready and have a plan for what she will do afterwards.
Once your child is age 15 or older if you like, then you can enrol him/her for the online classes at Online GED Prep™ to prepare for the GED® tests – this programme will SHOW YOU when she has achieved "passing level" and beyond in each subject so that you know when she is ready to book her tests.
Here is how it works:
To take the stress and struggle and insecurity of the unknown, out of preparing for the GED®, Online GED Prep ™ provides you with lessons, practice tests and reports showing your progress in each subject.
Initially, candidates take a practice test in each subject and the programme then presents you with a customised series of lessons for you to follow to make sure that you develop those skills that you need in order to pass each subject. No wasting time on topics you have already mastered.
For example, (see below) in maths, the programme will show you that you have mastered Polynomials, but you need to work on Systems of Equations before you will be ready to ace the GED® math test!
No More Stress, It's Under Control
As you work through the lessons, you will brush up on the skills you need. There will be more practice tests which will measure your progress and your progress report will show you on a graph when you are at 'passing level' or beyond in each subject.
This will build your confidence and you will know when you are ready to write and pass the tests as the GED Academy™ progress reports will show you! (As a parent, you can log in to your child's account and see how much time he has spent on lessons and how he is progressing.)
There is no panic or cramming before an exam date as you will book your tests when you know you are ready and pick the date and time which suits you.
Steps to Write the GED® Tests
Online GED Prep™  will assist and guide you through each of these steps.
Book GED® tests online – you choose the date
Write GED® tests – at a Boston VUE test centre in your area
Apply for your GED® hard copy transcript
For more information go to http://onlineGED.co.za
Email info@onlineged.co.za
Homeschooling High School
6 Part Webinar Series
Do you need more tips and advice about Homeschooling High School? – Get the webinar series. You can create a free user account at Teachable. Then enrol for R400 and download it instantly and you can then watch the presentations at your convenience.
Back to Homeschool Articles
Schooling is not the Secret to Success in Life
Entrepreneurs in The School of Real Life
Re-evaluating Homeschool Sport
Starting Homeschooling Even at High School Level